ISO Tank Container Parts - Guard Technology Co. Ltd.
From our Guard Europe BV warehouse in Bergschenhoek, the Netherlands, we supply you with almost any tank container part you need.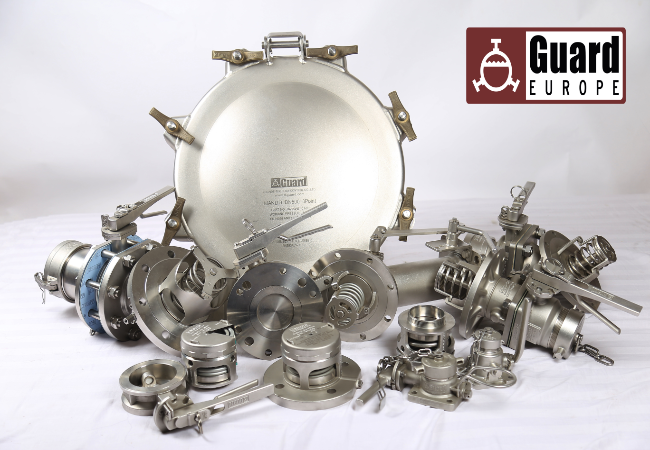 Guard™ Guard Technology Co. Ltd. / Grande-Tek Flow Control Co. Ltd was founded in 1996 and is a professional manufacturer of precision cast parts and has an excellent standing in the field of machining valves and fittings. We have an excellent reputation with companies working in the oil, heating, electricity, and food industry and transport sectors.
Our high-quality products are popular all over the world. Our total business area for production, design and development is 67,000 m2, and 500 well-trained and motivated people are working there.
We meet our customers' needs through certifications, such as ISO 9001:2015, A1 Special Equipment License, PED 97/23/EC, AD W2000, TS 16949, CE, DVGW, GOST, and CCS.
We also have a complete range of valves and spare parts for the tank container industry, road tankers, and rail tankers, including manlids, relief valves, air inlet ball valves, butterfly valves, foot valves, flanges, and all kinds of spare parts.

As an ITCO member, we are the first professional producer of a range of valves and spare parts with its brand Guard™ in China.
Our company's value is to provide real solutions for the tank container and transportation industry by offering value-added products, superior service, and a relationship that will exceed your expectations.
We supply a full range of components for safely transporting, storing, and processing hazardous liquids, foodstuffs, powders, and compressed liquefied gases.
Tank Containers & other pressure vessels for transporting liquids, gases, and powders.
Our product range includes manways and hatches, airline valves, safety relief devices, top and bottom discharge valves, secondary closure valves, and associated ancillaries and fittings.
Equipment for:
Tank Container
Road Tanker & Tank Trailers
Non-refrigerated liquefied gas tank container
Swap body tank containers
Offshore refuelling tank containers
IBC units
Powder tank containers
Rail tank containers
Static storage tanks
We supply standard sets of equipment for the tank container, road tanker, tank truck, gas tank, process plant, IBC, and rail tank industries.
Furthermore, we have an extensive stock, a helpful team, excellent service, and a healthy ambition.
GUARD TECHNOLOGY CO., LTD / GRANDE-TEK FLOW CONTROL CO., LTD

Industrial Zone of Yunhe District, Fuyang North Road, Cangzhou, Hebei, 061001
People's Republic of China
www.tkguard.com

GUARD EUROPE BV

Weg en Land 42H, 2661 KR, Bergschenhoek
the Netherlands
www.tkguard.eu